---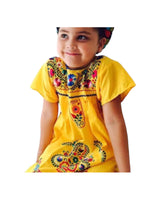 New Mexican dress for girls! Our dresses are handmade, we use a lightweight cotton blend fabric, very fresh and soft. The hand embroidery is made with nylon thread and the machine embroidery is made with silk thread. We carry hand embroidery and machine embroidery, we will ship what is in stock at the moment.
The dress you will receive will not be the one in the pictures, every dress is one of a kind, we will ship the size and color requested and the color of the embroidery will be always multicolored.
For special requests, please feel free to add a message to your order.