---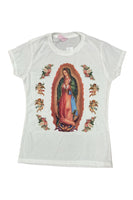 Sale
New t-shirt featuring La Virgen De Guadalupe T-Shirt. Fun and colorful style perfect for a relaxed weekend, shopping, adding an artsy flair to your look, or just because you are a Frida fan!
Made with premium quality spandex/polyester fabric, very soft and stretchy, printed in high definition using the sandblasting technique which may leave fine white lines and it's by no means a manufacturing defect, but part of the handmade process and it adds a unique urban distressed finish.
True to size.
All sales are final. Exchanges are allowed on or before 14 days after delivery, the buyer pays to ship it back and forth.